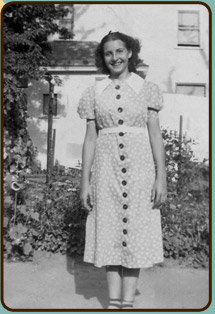 1923, Emanuel Hospital (0:13)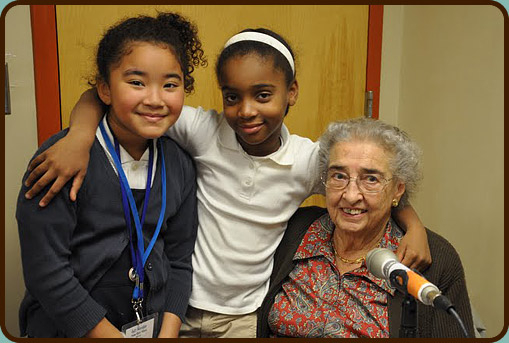 Audio Links
Audio Titles
Text of Audio Links
For the record, will you please tell us your full name?

Doris Olive Tindall

What year were you born, and where were you born?

1923, in Emanuel Hospital.

Where did your father work?

Well, In Portland he worked in the railroad yards in the blacksmith shop and then during the Depression he worked at Public Works Projects. And then his last job was a custodian down at the Multnomah Hotel, Downtown.

Did your mother have a job outside of the home or do volunteer work?

Well she did not work until the depression and then she was a seamstress and she worked altering clothes for one of the dress shops, Grason's, downtown, during the war.

Could you tell me more about that?

Well, it was, fact of the matter, when she first started out, they needed somebody to mend sheets for the YWCA, and she went and did that and met another lady there that did the altering, which she really liked altering clothes. Which was hard for me to understand, why any body would enjoy tearing things apart and putting em back together. But, that's what she liked to do.

Can you please describe your mother in her best dress?

My mother? Because it's so special to me, it was a black velvet dress. When she started going to the dances, and I got my first job working at a grocery store on Comercial and Failing, and the money I got from it, I bought velvet with it so she could have a formal dress to wear to the dances.

What do you remember about this neighborhood?

Well, I worked in the grocery store and had a real good friend and met her by accident. in those days we didn't have telephones. Well I went down to the store to see if I could use their phone and found out the girl in there was the girl I'd been in first grade with at Woodlawn School. And then both of us had moved away. And we met back again at the grocery store. And both of us have been friends ever since.

Where was that grocery store located at?

The corner of Commercial and Failing. It's now the park.

The interesting thing about that grocery store, as compared to the ones you have now. When you went into a grocery store there was a counter and you walked up to it, and you'd tell them you wanted a box of Rice Krispies. Well you had to go back and get it in the back of the store and they'd bring it out to you. Like getting dried beans or rice, we'd have to back into hundred pound sacks of it and sack up two pounds of rice or two pounds of beans. And then you'd want a pound of butter so you'd get in a cold case that they had and you'd get out a pound of butter. You put all these things together and then you'd add em up. It wasn't big enough to have the big fancy baskets they have now, just ones you carried on your arm. So it was real different than what it is now.

What were the countries of origin of the people in your neighborhood when you were growing up?

Well there were Polish and Finnish people that I particularly remember waiting on in the store.

Do you remember any of the shops along Mississippi Avenue or Williams Avenue?

Oh yes, yes. They had a movie house, that I think was the Rio Theatre, I believe. and then there was a dry goods store, we'd go in there and trade. And then I sang in the Pilgrim Congregational Church, and we used to stop and Phipps's and have Lime Rickies after choir practice, on the way home. (laughs)

What is a Lime Rickie?

Well it's a soda pop.

Oh.

When we were little we had Kirby Street had kind of a tar finish on it. It was real smooth. And we used to like to come down there to roller skate and that was in the 30s.

What do you remember about World War Two?

Well it was quite a momentous occasion and when I turned 20 I joined the Marine Corps and was in the Marine Corps for 26 months. Schooling was in North Carolina, Camp La June. And then I served in El Centro, California, at the air strip there.

When I first got there, they didn't have the airport finished and so they didn't have lights. So they would have night flights that they would practice with these fighter planes and so you had to take smudge pots, which are pots that are filled with Kerosene, and they have a wick in them, like a big, well a candle so to speak. And you'd go by and light those at night when they were going to have flights. And then when they were all over, then you had a rag that was probably 3 feet long, like an old towel, something like that. And you would drive along in a jeep, and one would drive an the other would sit in the passenger's seat. And you'd go by these smudge pots and smack the wick to put them out. Sometimes you'd do that a couple times during the week cause they would do them and then they'd take off and fly and be gone. So it was kind of at whoever was putting out these flights. That's when you had to work, is when they needed the lights on the airstrips.

Could you please tell me more about that?

It was rather interesting in that I was sent to school for a mechanics school for about six months, then transferred to El Centro and worked on a flight line where you fuel fighters, but that didn't last very long cause the men started coming back from overseas and when they came back for the jobs then they'd take over those jobs and you'd move on to the less essential ones. So then I ended up working in, well it was like a soda fountain would be now.

Can you tell me about the dances at "Ancy Club"?

Amici Club. Yeah, that's a funny name. It means "friends". And it had started out with just young couples in a home. There were just two or three couples. Then they had more friends they wanted to invite so then they rented a hall that was down on Shaver. Then they could invite more people, and then they got to charge so much, but it was a very small amount of money, 25 cents for a couple. This was during the Depression. And looking at some of the records, it tells about having them come and set up the food for the intermission of the dances. And that would be their admission, so they wouldn't have to pay for the admission.

What kind of clothes did people wear to the dances?

Very formal. The ladies wore long dresses and the men wore suits and ties. And it was very important that you keep them on, that you keep your jackets on, for the men--except when you had special dances that were costume ones.

Did kids go to the dances, or just grown-ups?

When we were young we didn't go every time. But we'd go at special occasions when they'd have special dances like Valentines Day or Halloween, they'd have special costume dances, like old time dances where you would dress up in old farmer clothes.

Did you enjoy going to that club?

Oh, you bet.

What were the names of some of the dances? Can you describe them?

Oh my goodness. The schottisches, and polkas and Virginia Reels, and Waltzes, and Skater's Waltzes. As you finished one dance, so you knew, from one dance to the next what was in line. And I always looked for the skater's waltz. I loved to do that with my husband.

What's the Skater's Waltz?

Well, instead of facing each other you stand side by side. He has his arm around you and you hold your arm out to the side and it's just like you're skating. You kind of glide to this side and then you make a turn and glide to the other side. It's just a nice smooth, romantic dance. And one thing about doing those dances. I've found out, even this youngest generation, they like the pattern, they're called pattern dances. But I think what they really like the best, especially real young ones, is when we would have intermission. Now these dance halls were big rooms, and they would put wax on the wood floors so that your feet glided. Now the kids would love to run on those floors. But during dancing time you couldn't run. So during intermission you would go downstairs to have ice cream or cake or pie, or whatever it was, then the kids were free to play upstairs on that floor. And they'd run from one end of it to the other and slide as far as they could slide--most of the time on their bottoms. They'd take off their shoes and they'd run and slide across there.

What decorations do you remember from the dances?

Oh, for a number of years we did like the Christmas dance, which was a real big dance with more decoration then. In the hall, generally speaking, on the center lights we'd make crepe paper skirts to cover them so they didn't look just like light fixtures. And then you'd string streamers from those lights over to the corners of the room, to make it more festive.

How often would people get together to dance?

They did it twice a month through I think it was June, July and August they would take off. They didn't have dances during the summer time.

How many people came to the dances?

Well at times there would be up toward a hundred people and another thing, during the war they would invite service people from the USO group to come out and come to the dances. They would ask for 10 or 12 generally, for what they could accommodate. Then quite a few of those young people at different times would then meet people there and go home, have a meal while they were in town. Then they moved on to, the IOOF Hall, by Jefferson High School. And we were there for years until they had a fire and then we were away for a couple of three years and then the people by that time, most of the older people had either passed on or couldn't dance any more. They got smaller and smaller crowds so they finally disbanded. And then one of my granddaughters, who used to come to the dance, because our children and our grandchildren came, she decided she didn't want that to die out. And she was looking for a hall to have it and we had tried a couple of places and then she found, which is now called the North Star, which is where we actually did most of the dancing for the Amici club. And so now every year, usually in February, because that was the anniversary of when the club started, she has it and now we're getting a whole new generation, a couple of generations of new young people that seem to enjoy doing old-fashioned dancing. Hopefully it'll continue on for a while. Now I've got great-grandchildren that have been through going to the dances and great grandchildren. So it's moving along.

I am Doris's granddaughter. My name is Crystal Christenson, that's my married name. And I am...

The instigator.

I am the instigator, I guess, of the dance continuing. About 5 years ago, I think it was, I was just looking for places in the neighborhood that would be inexpensive enough for us to host a dance. And I walked into the North Star Ball Room. It was just open and I went to go look, and I walked in and it had all of the nostalgia of the same ball rooms when I was little and I loved it so much. I called my grandma and I said "Grandma, I found this place. It's called the North Star Ball Room, and I think it's gonna be perfect for our dance." And she says, "Oh, well honey, that's where it started in the first place." And I didn't even know. It is a dress up year, so you can dress up in all of your pretty clothes and come and twirl around. And we'll teach you. And Grandma will be there to help you stay on beat. And don't look at your feet.

Do you have any advice for young people?

I think everybody needs a little bit of structure and elegance--to dress up and be special.

How would you like to be remembered?

Well, as a mother, and as a grandmother, and a great grandmother, who makes the best pancakes in the place and pie, according to my granddaughter.

Thank you for your time.