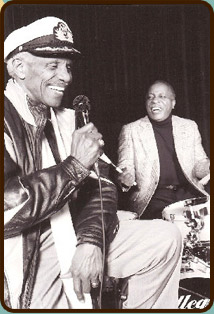 Elders
Audio Links
Audio Titles
Paul Knauls, Sr.
Cheryl Dodge
"Grandfather" Leonard Smith
Kenni Poitier
Louise Grogan
John Helmer
John and Vivian Parker
Dick Zenger
Doris Tindall
Vera Harris
Photos
Text of Audio Links
Paul Knauls, Sr.

The Cotton Club, our slogan was "It was the only night club on the West coast with wall-to-wall soul," so that gives you an idea of the kind of spot that we had. I mean, on any given night--it was a place to see and be seen.

Cheryl Dodge

Most of the people in my neighborhood were German, and Finnish, and we had a lot of Polish. I've always drifted back to this neighborhood because I've always loved it here. Most of my happy memories are here.

"Grandfather" Leonard Smith

There's nothing that I see that I don't like about the neighborhood. I'm so proud of this neighborhood. We have a spelling bee for the kids, we have a spelling bee for the adults at the Mississippi--and I'm the old huggin' man. I hug the kids and when you lose, I give you a hug.

Kenni Poitier

Listen, all you can ever be in life is yourself. Be the best self you can be. Remember an old man told you that, an old man from Cat Island in the Bahamas told you that one there--be yourself.

Louise Grogan

When I grow up I want to be an old lady--older than what I am now. Much older! You know what that's saying? That's saying, "Hey, I want to live!" 'Cause you have to live to get old. Did you get that? Are you sure? I'm shooting for my mother's age--92. See, I'm 72 now, so I've got 20 more years to go.

John Helmer

I loved to climb mountains, so I climbed 50 different peaks in Oregon, Washington and California. I used to say that if you can see Mt. Hood there every morning you have to climb it in your lifetime.

John and Vivian Parker

We've been in the neighborhood since 1959, so we've 50 years in the neighborhood.

Almost.Yeah, 50 years! Oh my gosh, yeah.

I like people, so I never really meet any strangers.

I love seeing people walk up and down with their dogs and their bikes and riding their bikes and pushing baby buggies and carriages--I mean, just everything.

Dick Zenger

I worked on a ship yard which is very close here. It was called Albina Ship Yard. And we built submarine chasers. And a lot of people worked in the ship yards. They needed lots of people and a lot of people came here from other places.

Doris Tindall

I think everybody needs a little bit of structure and elegance--to dress up and be special. The ladies wore long dresses and the men wore suits and ties. I always looked for the skater's waltz. I loved to do that with my husband.

Vera Harris

My favorite park is Peninsula because they got nothing but roses and I love plants, I love flowers. I just liked to go in and just sit and look at the roses and just smell them.